Style Profile: Daniel Torjman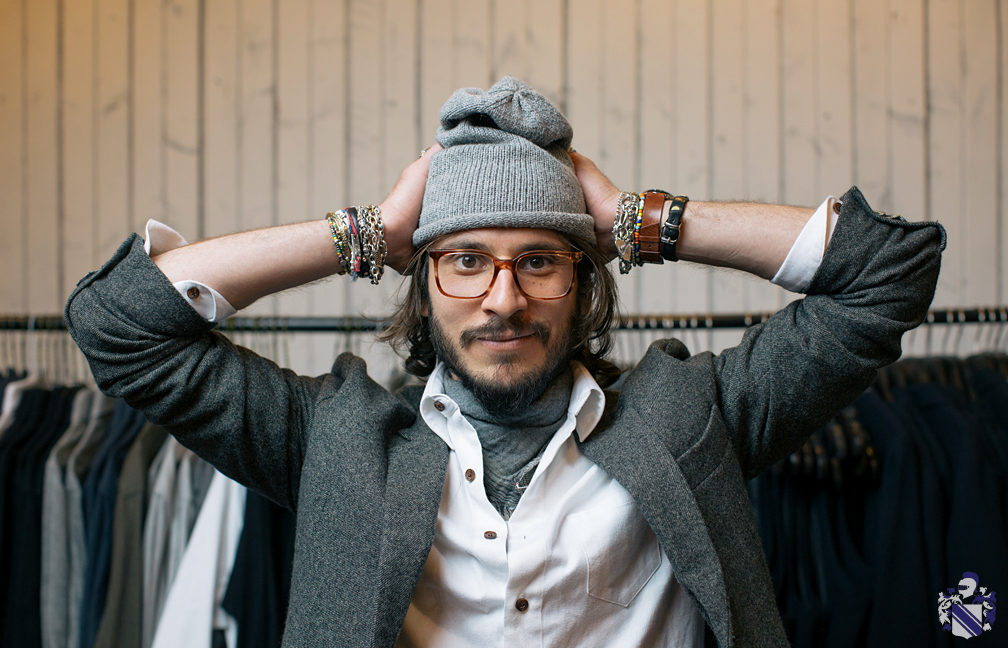 Style is a great way of expressing your individuality without saying a word. Ever since I can remember, I have been intrigued with the way in which men presented themselves, and it has since become a passion of mine. Daniel Torjman is one of those guys you get a glimpse of and instantly want to know more.
I met Daniel a couple weeks ago while I was touring around The Gentlemen's Expo in Toronto looking for new and interesting features for the site. As we spoke, I got to learn a little bit about him as well as his menswear brand called 18 Waits. Daniel's look had a rugged mid western vibe, whilst maintaining a sartorial appeal. This contrast made for an interesting combination that is truly unique.
Without further ado, meet Daniel Torjman, Creative Director of 18 Waits and the master of looking elegantly dishevelled.
What got you into fashion in the first place?
I always loved clothes and expressing yourself and who you are by what you wear.  Ever since I was young it interested me.
What is your favorite item in your wardrobe?
A super old vintage Bob Dylan t-shirt.
You feel your best when wearing...
A hat.  And great socks.
How do you approach getting dressed every day?
I wear the same pair of pants almost every day so that doesn't really change.  I don't even take things out of the pockets.  They're like a uniform and when they get too old I switch them out for a new pair and do the same thing.  So the pants are usually a constant that I don't really think about.  I think the rest depends on my mood and what sort of things the day/night have in store for me.
What is your sartorial pet peeve?
I find "trends" sort of annoying, actually.  I mean, I know that sounds weird but extreme styles that are faddish just bother me.  One year we'll see a sea of neon on everything and everybody and then the next year those same people are wearing head-to-toe camo.  The next year they look like dapper yachters.  I guess I like when people chose a style for themselves that they're really comfortable with and really "them" and they then kill it.  I think it's best to choose your style and really just focus on it and dig into it and do it well.  As opposed to jumping onto the new thing for that season.  For instance, with 18 Waits, there's nothing that we make where 10 years from now you'll look at it and say "what the fuck was I thinking in 2014!?"  We try to make new things that are instant classics and timeless.
Favorite item in your Fall/Winter collection?
The three-piece suiting.  All of it.  I bought a suit from this season in each fabric we offered because they are such incredible fabrics.  All from Japan.  I think the only problem with the suiting from this season is having to choose which fabric to buy out of the four as they are all so so good.
Who or where do you get your style inspiration?
It really comes from everywhere.  I mean, sometimes I see great women's fashion and that inspires me.  There's not one well I draw it from.  So many different places and people and eras.  I love leafing through old photo books of musicians and bands from the 60s & 70s.  Those two decades were my favorite for music and I get a lot of inspiration from the style of those eras. 
I want to thank Daniel for taking the time to talk to us. For more on him and 18waits visit 18waits.com
Yours truly,
Mr. Cavaliere